I had my daughter's baby shower here. At first people thought it was odd. At the end they all told me they couldn't believe what a FANTASTIC time they had and how much FUN it was. Everyone is planning a return visit. Very safe and well supervised. You can leave the kids and know they are safe and will sleep well that night.
I attended a birthday party at this location with my toddler. The place is new and there is a toddler zone in which was a lot of fun. The place is not massive so it is easier to manage the kids without getting overwhelmed. The suspended obstacle was a nice touch for the bigger kids and adults. Everyone seemed to really enjoy it.
The location was clean and music was fun. Not too loud and appropriated for kids. I would highly recommend for a birthday party and cannot wait to go back!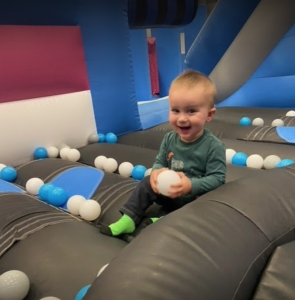 Took my 5 year old daughter here for the first time and she had a blast!! The staff was amazing with her and a special shout-out to Isaiah who helped my daughter through the entire obstacle course. She was too nervous to do it by herself but because of him, she conquered her fears and now wants to go back and try it all by herself. The staff did a great job cleaning the place as well. We will definitely be back soon!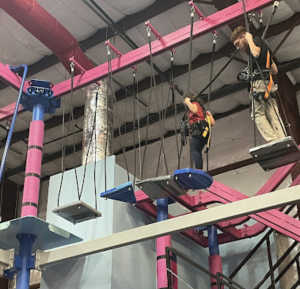 My 6 year old son had a great time. He spent most of the time in the bounce house area. Towards the end he tried out the Flying Leopard. The employee Dillon was awesome at helping my kid gain confidence even before going up the stairs. Will be visiting again. Going after school seems to be the best time to go.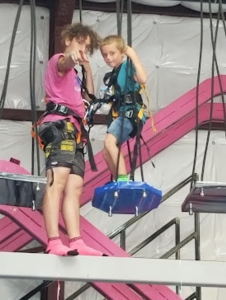 Attended a birthday party here and it was GREAT!! I loved how the space isn't huge, there's plenty to do but it's not so big that you are constantly losing your people.
The suspended obstacle course is SUPER COOL! Challenging enough for adults but still fun for young kids too!
It was very clean, the staff were all very kind and helpful.
This is random but I also really appreciated the music!!!! 🎶 🎵 Trampoline parks I've been to in the past play too loud of music that when mixed with the chaos of screaming children gives you a terrible headache and you can hardly communicate with anyone remotely close to you because you can't hear yourself talking.
Catapult was playing Disney classics, some Broadway and upbeat instrumentals. I think it encouraged the kids to be kids, to feel adventurous and have fun with the music in the background without feeling like we were all at a rock concert.
I would highly recommend for a birthday party and I look forward to going just for fun as well!
My grandsons and I have been going to Catapult for several months now and with the added equipment it is the Best& Most Awesome Adventure Park around!!! It truly deserves 5 Stars 🌟
The Staff are so friendly and are there to help any & all guests to have the Best Fun ! Come check it out, you won't be disappointed 🌟
Family friendly option for those days it's just too hot (or cold) in Florida. Very clean and well attended to. The staff is very helpful and go out of their way to make the the kids have fun while encouraging them to try all of the equipment out.
My 7 year old daughter did the overhead obstacle catwalk with some encouragement from Eli who is super nice and great with kids. My youngest is autistic and they were understanding of her sensory issues (won't wear shoes and socks) and she tends to hang out in high traffic areas which they took like champs.
I recommend catapult and hope they have continued success (but not be too busy lol!) They have a great membership program right now that's waaay less expensive than some other options in the area. Can't wait to see their expansion upcoming!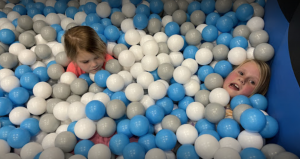 We're members at Catapult and enjoy every single visit! We have had both of our daughters (6 & 7 years old) parties here and they've been nothing short of amazing. Gianna was our party host and is usually who attends us at the front and is super sweet & helpful. All of the crew members are just as nice and always willing to help. Now that the other half is open there is definitely something for every family member to enjoy! Highly recommend to visit for a fun family day.
The management was wonderful with Valerie, Aryanna and Gianna including the whole staff members who works there were all so perfect! Everything is so clean and extra sanitized. They gave my son an exciting, fun, entertaining birthday party plus the extra bonus was a live DJ who was also involved with the kids party with dance games. It was the best time ever. The entire environment was caring, tons of hospitality, and very safe and welcoming for all ages of children. I felt like they were apart of my family how involved they are with the children also with hosting the party, serving the food, drink's and cake my family felt very comfortable with all the services they provided naturally. They all deserve a raise! Thank you all for making my son's party so happy and entertaining. I will recommend Catapult to celebrate all kids birthday parties here! Thank you I had no worries, everything was perfect, perfect and perfect!!
Super fun place for all ages. Had a birthday party there and everyone had a fun time and wanted to go back, but the only this is I would suggest bringing maybe a light long sleeve shirt because the big slides can give a little bit of what I would call a rug burn (but it's slides) on your elbows. My son who is 5, niece and her younger sister(4) and I got them but didn't stop us from going down the slides. we were just more careful, and put our arm on our chest while going down. The staff was super nice and friendly and helped with whatever we needed. Definitely will be going back
Booked a party here for two reasons: they open in the morning and the parties are not overly structured. We brought five kids ranging 3-11 years old and everyone, including the adults, had a fantastic time. The aerial course was the hands-down favorite and the huge slide that ends in the ball pit a close second. The jousting area was overrun with smaller kids who wanted a shorter jump down (understandable) but we enjoyed some jousting in between and it all worked out great. Our party host, Raven, did a wonderful job – she was attentive to the standard party items and took time to help encourage the kids along the aerial course. I honestly can't find words for the great time we had, both adults and kids. The adults FELT like kids again! Kudos also to the staff member who was supervising the aerial course, this young man was on the ball.
We had my daughter's 7th birthday party here and it was a blast!! The kids and the adults were all entertained for the whole time! We can't wait until the other side is open. This park does have a small area for toddlers but is geared more toward slightly older kids about 5 and up. Really fun and would highly recommend going.
I took my boys there for the first time today. The staff was amazing, really friendly, and energetic. They interacted with the kids and they just had the best day. The place has so much to do and I'm excited to see how it will be expanded. I will definitely be a repeat customer.
We had my daughter's 6th birthday party today and It was wonderful! My birthday host was terrific and did an awesome job.
Kids had a blast!